---

---

Slide Rule Info


---

About the OS

Welcome
The Oughtred Society was founded in 1991 by a group of slide rule collectors and is dedicated to the preservation and history of slide rules and other calculating instruments. In the past 23 years it has evolved to an international organization with members in 22 countries. It is noted for its highly acclaimed Journal of the Oughtred Society, published twice annually. Continued …
Calendar of Events
June 21, 2014 (Saturday) - Twenty-Third Annual OS West Coast Summer meeting. Mountain View, California. Computer History Museum. Oughtred Society Members are invited to attend. Non-members welcome!. Click here for Details and Registration.
News/Features
Tom Wyman, who served as our first Oughtred Society president from 1997 to 2007, passed away in Palo Alto, CA on March 17, at the age of 86. Tom became suddenly ill on the morning of March 10 from a brain aneurysm and passed away after a short hospital stay. Tom is survived by his wife, Ellen, daughter Susan, son Tom, and four grandchildren. A memorial service will take place on April 18 at 11AM at Lucie Stern Community Center Ballroom, 1305 Middlefield Road, Palo Alto.

JOS DVD is now available for sale, containing 22 years of the Journal of the Oughtred Society in PDF format. OS members and non-members(individuals and institutions) may purchase the DVD by going to the Journal page and paying for the disk via Paypal.

A Search Facility for the Journal of The Oughtred Society awaits your use.
(See Journal Search in main menu at left.) This new Search Facility displays high resolution PDFs of Journal articles. You may search by several methods -- author, title, keyword, or for any word that appears in any article, or for all articles in a given year, etc.The search facility was created by Rod Lovett.

Collectanea de Logarithmis
For more than ten years Klaus Kühn has studied the history of logarithms and of logarithmic tables. At the IM2013 meeting in Berlin he presented the results of his study, packaged in a tool called Collectanea de Logarithmis (Collected Works Concerning Logarithms). The tool gives access to thousands of tables, articles, books, and other publications on history of the invention, calculations, tabulations and applications of logarithms from Early Modern Age until the present - 2014 being the quadri- centennial anniversary of Napier's first book on the logarithm, Mirifici Logarithmorum Canonis Descriptio. The tool consists of a DVD with a USB-stick protection "dongle", giving access to an online database. Collectanea de Logarithmis can be purchased at €50 from Klaus Kühn. More Information

The Oughtred Society 2013 Hall of Fame.
In 2013, Clark McCoy (USA) was given the Oughtred Award. and five Fellowships were added to the roles: Klaus Krämer (Germany), Gonzalo Martin (France),Willy Robbrecht (Belgium), Carl Strange (USA), and Marc Thomas (France).

The Spring 2014 (Vol 23.1) Journal will contain the following articles and more:

B47 Slide Rule by Bill Robinson
Chisel Cursors by Clay Castleberry
Clark & Company by Tom Wyman
Combined Slide Rules by Panagiotis Venetsianos
HP Commemorative Calculators by Otto van Poelje
Moinot's Stadia by Richard Hughes
Paper Excise Rule by Tom Wyman
Station Pointer by Robert Sauer
UNIS - France: A collective Trade Mark by Panagiotis Venetsianos
Writing - My Take by Tom Wyman

Recent books on slide rules are:

Joint Slide Rules, by Peter Hopp
Pocket Watch Slide Rules, by Peter Hopp
Otis King Calculators, a History of Production 1920-1977, by Colin Barnes and Tedford White
Rechenschieber-Slide Rules, A.W.Faber, A.W.Faber-Castell, by Peter Holland.

More details on the Resources Page.

Request for Articles for 2014 Journals. Be a contributing author and share your knowledge and interests. For ideas and inspiration, read "Yes, You Can Write for the Journal of the Oughtred Society" (82KB pdf).

Sample Articles from the Journal of the Oughtred Society. The Oughtred Society is pleased to present .five articles from past issues of the Journal. Links forthcoming. See NEWS ARCHIVES.

JOS Plus is the website location where supplemental material appears for articles in the Journal of the Oughtred Society. View these supplemental materials by going to JOS Plus.

NEWS ARCHIVES - Past announcements and news.

Publications of the Oughtred Society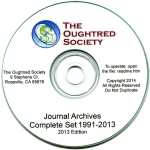 JOS DVD
22 years on one disk



Calculating With Tones



K&E Slide Rule History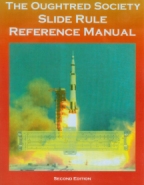 Slide Rule Reference Manual
2nd Edition



Pocketbook of Gauge Marks
2nd Edition