---

---

Slide Rule Info


---

About the OS

Welcome
The Oughtred Society was founded in 1991 by a group of slide rule collectors and is dedicated to the preservation and history of slide rules and other calculating instruments. In the past 22 years it has evolved to an international organization with members in 22 countries. It is noted for its highly acclaimed Journal of the Oughtred Society, published twice annually. Continued …
Calendar of Events
News
The Oughtred Society 2013 Hall of Fame.
The Oughtred Society is pleased to announce that Clark McCoy (USA) has been given the 2013 Oughtred Award..Five Fellowships were also given: Klaus Krämer (Germany), Gonzalo Martin (France),Willy Robbrecht (Belgium), Carl Strange (USA), and Marc Thomas (France).

Beginner's Guide to Collecting Slide Rules (1.54Mb PDF) is a new publication on this website. It contains the following chapters:
- Why collect slide rules?
- What slide rules to collect?
- What makes a slide rule valuable?
- Where to buy slide rules?
- How to find more information about slide rules?
- Slide rules that are popular with collectors.
The last chapter is a list of 97 suggested slide rules in 4 categories -- Inexpensive, Medium priced, Higher priced, Highest priced. Thumbnail images appear in the 4 categories above and are clickable to view a detailed image with description for each rule.
Beginners Guide was created by Ted Hume and Rod Lovett.

Classic Slide Rules is a new addition to this website, a collection of slide rules in four classic categories – Historic Design, Most Popular, Top of the Line or Scarcest, and Specialty. Images and descriptive information are provided for each of the 147 rules in the collection. We welcome your comments and suggestions.
Classic Slide Rules was created by Ted Hume and Rod Lovett.

2013 Membership Renewal! If you have not already renewed your Oughtred Society membership please do so. Membership is on a calendar year basis, i.e. January 1st through December 31. If you renew now you will receive both the Spring and Fall issues of the Journal.

Rarities Gallery - Check out the new gallery in the menu which has rare examples of slide rules belonging to members of the Oughtred Society.

The Spring 2014 (Vol 23.1) Journal will contain the following articles and more:

B47 Slide Rule by Bill Robinson
Chisel Cursors by Clay Castleberry
Clark & Company by Tom Wyman
Combined Slide Rules by Panagiotis Venetsianos
HP Commemorative Calculators by Otto van Poelje
Moinot's Stadia by Richard Hughes
Paper Excise Rule by Tom Wyman
Station Pointer by Robert Sauer
UNIS - France: A collective Trade Mark by Panagiotis Venetsianos
Writing - My Take by Tom Wyman

Recent books on slide rules are:

Joint Slide Rules, by Peter Hopp
Pocket Watch Slide Rules, by Peter Hopp
Otis King Calculators, a History of Production 1920-1977, by Colin Barnes and Tedford White
Rechenschieber-Slide Rules, A.W.Faber, A.W.Faber-Castell, by Peter Holland.

More details on the Resources Page.

Request for Articles for 2014 Journals. Be a contributing author and share your knowledge and interests. For ideas and inspiration, read "Yes, You Can Write for the Journal of the Oughtred Society" (82KB pdf).

Sample Articles from the Journal of the Oughtred Society. The Oughtred Society is pleased to present .five articles from past issues of the Journal. Links forthcoming. See NEWS ARCHIVES.

JOS Plus is the website location where supplemental material appears for articles in the Journal of the Oughtred Society. View these supplemental materials by going to JOS Plus.

NEWS ARCHIVES - Past announcements and news.

Publications of the Oughtred Society

Calculating With Tones



K&E Slide Rule History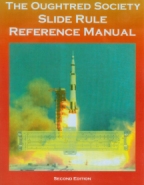 Slide Rule Reference Manual
2nd Edition



Pocketbook of Gauge Marks
2nd Edition